Contact
Office: 530.823.3628
Mailing Address
1431 Merry Knoll Road
Auburn, CA 95603
Serving greater Sacramento and neighboring Foothill communities
Unless noted otherwise, all content and images © Dog & Whistle Goose Control 2014. All rights reserved.



By popular request, Dog & Whistle Goose Control is making available for purchase our custom made Dog Vests. These unique vests are patterned and sewn by The Whistle herself, Jane Brogan.
These vests look great on service and competition dogs. They can also be worn as an advertisement for your organization or business.
Dog Vests are available in six colors: green, red, blue, orange, yellow and black or you may provide your own nylon fabric.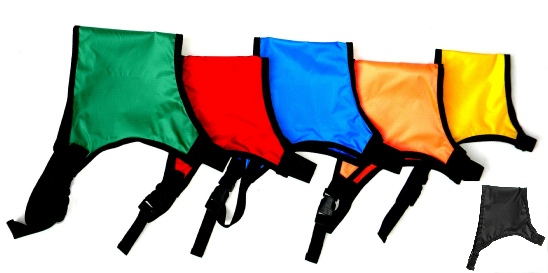 Actual colors may vary slightly — fabric samples available upon request.
Features:
• Double layered nylon fabric with rip-stop outer layer.
• Double stitched edging.
• Elastic webbing around collar to fit snug, but not tight!
• Adjustable strap under rib cage with quick release buckle.
• Machine washable.
• Made from your dog's measurements.
Cost: $30.00 per Dog Vest for 1-12 vests. For larger orders or special order fabric (or customer provided materials), please call for quote.
Please print and complete Order Form at left. For orders of 1-12 Dog Vests please allow two (2) weeks from receipt of order and payment to receive vests. Thank you!
Note: Dog Vests do not include embroidery. We recommend you have embroidery done at a shop near you. You can then use the template on other garments such as shirts, caps, etc.