Contact
Office: 530.823.3628
Mailing Address
1431 Merry Knoll Road
Auburn, CA 95603
Serving greater Sacramento and neighboring Foothill communities
Unless noted otherwise, all content and images © Dog & Whistle Goose Control 2014. All rights reserved.


Looking to obtain a goose dog to work on your golf course, commercial facility or perhaps to start or enhance your own goose control business? Dog & Whistle Goose Control may be able to assist. Under the right circumstances we can make available for purchase or lease a trained Border Collie goose control dog.


Frequently Asked Questions
How much does a trained goose dog cost?. . . Purchase costs range from $1,500 to $10,000 depending on the dog's experience, abilities and age. Lease costs range from $500 to $1,000 per month. The cost also depends on your needs. For example, dogs that go into the water and swim up on geese are typically more expensive, but perhaps the nature of your facility does not require this skill? Or, maybe there's limited running necessary and a medium age dog would work well, versus obtaining a one-year old that is hard to tire out?
Where do we get our dogs?. . . As is the case with our own goose dogs, numerous border collies come to us through our rescue network (we do not breed dogs). While the majority of rescue dogs are made available for general adoption, we select for training ones that show an aptitude for goose control work. These dogs also tend to be the more energetic ones, which works out doubly well as this trait can make them more difficult to place in a typical family environment.
What training do we give our dogs? . . . To start, we bring a dog into our existing pack, which accentuates their natural behavior. The other dogs recognize us as the pack alphas and this translates to new pack members.
We ensure the dog is housebroken and then start with obedience type training, including a localized recall. We work to establish the dog listening and working with the handler. For example, when we walk up stairs or through gates we have the dog wait until called by name. When we go in the vehicle, the dog is commanded to load up into a crate. These everyday efforts add up to the dog paying attention to the handler.
Our training is largely off lead, which is how goose dogs work. We don't train the dog to heel on a leash in classic dog obedience fashion, but they will be learn to walk closely off lead so you can walk through a public gathering.
As training progresses, a stop and lie down are established and the recall distance is expanded. The dogs receive on-the-job training and learn to disembark and return to a motorized golf or utility cart. For some facilities you want a dog to continue the hazing into water to drive them fully off the property. A surprising number of dogs require work to build their confidence in this area. We do this with swimming practice and we hone their skills by pairing them with our dogs for actual hazing.
Are our dogs friendly? . . . Yes, they must be since goose control work is typically performed in public. Throughout the training we socialize our dogs with humans and other dogs. In addition to the on-site training, we also include outings to the dog park, Starbucks, etc. This may be a significant difference with traditional sheep herding training. We expect some sheep dogs rarely, if ever, leave the farm.
Please call to review your situation and to see if we can match you up with a dog. We normally only train one or two dogs at a time such that there may be some time necessary to fulfill your request. We are very selective where we place our dogs, but when the situation is right, we are thrilled to see one of our dogs go to a working environment. To the left and below are some of our recent graduates.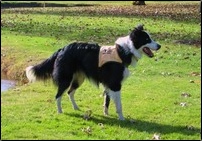 Graeme Shoreline Golf Links
Mountain View, CA
Liam North Ridge Country Club
Fair Oaks, CA
Sammie K-9 Goose Control
Santa Rosa, CA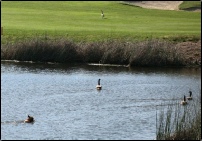 Rain Maryland Goose Patrol
South Chesapeake Bay Region
A unique opportunity for you to obtain a goose control dog at a reduced cost has arisen. We have been asked on short order to find a working home for Stella, a two year old BC/Australian Cattle Dog. Stella, pictured below, has a solid drive to harass Canada geese, including continuing the harassment into water. Please call us at (530) 823-3628 to discuss.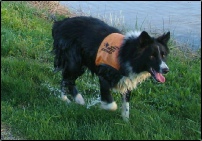 Bree Hartford Golf Club
West Hartford, CT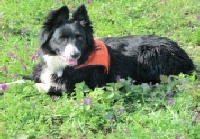 Caena Brookside Country Club
Stockton, CA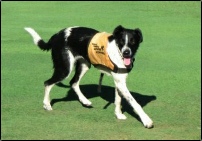 Jack Losee's Goose Control
San Francisco Bay Area, CA