Contact
Office: 530.823.3628
Mailing Address
1431 Merry Knoll Road
Auburn, CA 95603
Serving greater Sacramento and neighboring Foothill communities
Unless noted otherwise, all content and images © Dog & Whistle Goose Control 2014. All rights reserved.

Ms. Pfeifer then brought Airport Bird Control to fruition by garnering support and donations from the Kenai Peninsula community, including the City of Kenai and Airport Commission and Kenai Watershed Forum. The Kenai Watershed Forum is a non-profit organization dedicated to maintaining the health of the Kenai Peninsula watersheds
Rose, rescued as a puppy from an animal shelter, was selected for the job for her classic border collie drive, ability to haze many types of birds, and willingness to work with multiple handlers.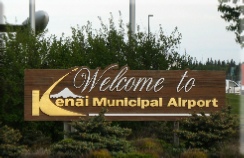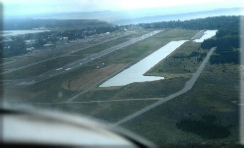 Kenai Municipal Airport ramps up bird control using Border Collie provided by Dog & Whistle Goose Control
June 2010: Jane Brogan, co-owner of Dog & Whistle Goose Control, along with Border Collie Rose started canine hazing training with staff at the Kenai Municipal Airport this month. After training, Rose will remain with the Airport for the summer to assist in clearing birds from runways, taxiways, which includes a float plane basin, and surrounds.
During summer, Kenai receives an influx of gulls, Sandhill cranes and Canada geese. Birds on the runways and taxiways affect Airport operations and increase the potential for aircraft bird strikes. Using dogs to harass birds from the Airport was conceptualized by Kenai Central High School student, Olivia Pfeifer. Ms. Pfeifer researched and prepared an essay on bird strike conditions at Kenai Municipal and nearby Soldotna Airport. Her essay, Airport Bird Control, received 1st place in the regional Caring for the Kenai competition, an annual event that gathers ideas for tending to the local environment.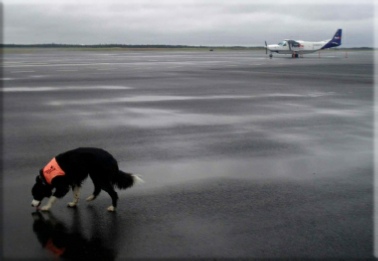 Kenai, Alaska is located on the Kenai Peninsula, southwest of Anchorage. Kenai can be reached via a 3 hour drive around the Turnagain Arm of Cook Inlet or a by a ½ hour flight on ERA Aviation. For accommodations, please enquire at the Kenai River Raven Lodge.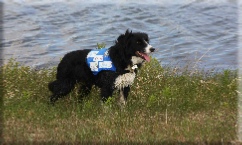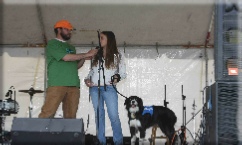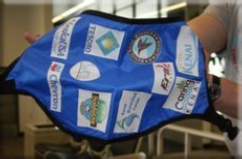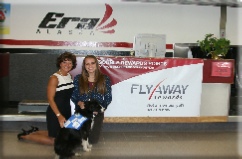 Dog & Whistle Goose Control thanks the many Kenai supporters and contributors for making Olivia's Airport Bird Control project a reality and allowing us to participate.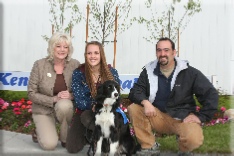 Hazing Report: Summer 2010
Gull population sets all-time record! Kenai Municipal Airport Manager, Mary Bondurant, reports a 650% increase in gulls hazed this June compared to last June (2600 vs. 400). The later start in this year's fishing season is believed to be the principal reason for the dramatic increase.
In July, the gulls gave way to Sandhill cranes, Canada geese and ravens. The occasional Canvasback duck and sandpiper made appearances, as did one non-flying moose!
August saw principally Sandhill cranes at the Airport with some Canada geese.
Regardless of bird type, Airport dog handlers Olivia Pfeifer and Matt Landry report all this bird hazing makes for one very happy Border Collie.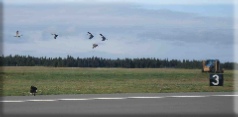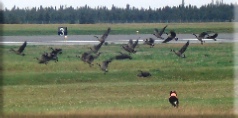 Rose clearing Sandhill cranes (upper photo) and Canada geese (lower photo) from area adjacent runway.

Links to Alaska TV news stations and newspapers with video and print articles on Rose's arrival and progress.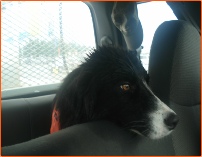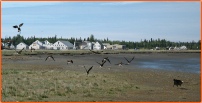 Practice session at beach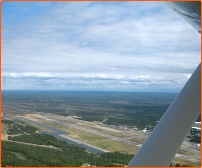 Kenai Municipal Airport (ENA)